David Brayne is an honorary member of the Royal Watercolour Society and winner of the Turner Medal for Watercolour. He makes his paints from raw pigments, luminous ochres, vibrant blues and greens, resonant blacks. His textured surfaces are built slowly with clear glazes and impasto, sometimes drawn into or scratched out. The colours retain their brilliance, and his work is deeply individual.
His paintings distil formal and even abstract elements. They are both timeless and contemporary. The critic Nicholas Usherwood describes David's artistic voice as one of quiet and subtle tenderness, placing him in the English tradition of humanistic landscape alongside Richard Eurich.
David's landscapes, sea paintings and interiors are both imagined and remembered, simple spaces in which archetypal figures take on visual importance and suggest ambiguous narratives. His childhood home in Lincolnshire looked out on Black Sluice Gate, holding back the tidal waters of the Wash. His mother grew up on Horsey Island, joined to the mainland by a causeway across the Essex salt marsh, the setting for Arthur Ransome's final Swallows and Amazons story. He now lives in Somerset between the Mendip Hills and the watery Levels.
Jane Wilson-Brayne
'There is poetry of perception expressed in David Brayne's work that is formed by his earlier Minimalist training and his growing Classical concerns. His surfaces are chalky dry, reminiscent of early Renaissance frescos, his colours, while subtly English, invariably have a warm vibrant Italian ochre singing out: creating a perfect harmonious palette.
There are no shadows – all as if in a dream- a lyrical memory. '
Jean Firmstone
The Florence Biennale committee has invited David to exhibit at this year's festival. the festival opens this October.
After studying art at Nottingham School of Art and Gloucestershire College of Art, David later went on to study philosophy at the University of Exeter.
Davids work has been exhibited both in solo and group exhibitions in galleries in the UK, Italy, USA and China. It is held public collections including The Royal Collection; Qingdao Museum, China; The Institute of Modern Art, Mumbai; Cyril Fry; The Royal Watercolour Society The Ingram collection and in private collections around the world.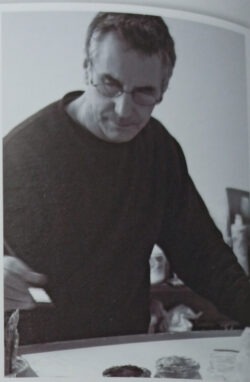 'My morning begins with a walk before I go to the studio, out of the village and along the Alham, a shallow river less than 10 miles long, lying in a green Somerset valley. I don't draw from life but the walk and the time for thinking it allows offer a starting point.'